The Confederation of Real Estate Developers Association of India (CREDAI) will start a consultative process with Union Minister of Urban Development Kamal Nath in first week of May, CREDAI President Lalit Kumar Jain said.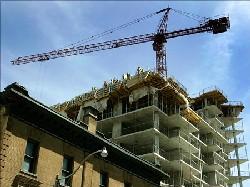 "Minister Nath has agreed to hold the consultative dialogue from next week in the process of improving the working scenario between developers and the government sectors," he said at the ongoing CREDAI convention being held in Singapore.

Jain highlighted two issues. "We need a one-window, one agency and one person to deal with when seeking approvals for our projects," he stressed, adding that such approvals should be given within two to three weeks.

Under the present process, projects are delayed as developers have to deal with more than 150 officials and over 40 departments.

The delays are costing 40 per cent of the housing unit cost to the consumer, he pointed out citing a recent report by consultants McKinsey Global Institute.

Secondly, Jain made it clear that developers were not the beneficiary of corruption process.

"We should not be blamed for corruption," he said, adding that the process has built-in corrupt practices.

Jain called on the government to eradicate all corrupt practices and set up a single on-line and or one-window process for project approvals.

Touching on CREDAI's Singapore convention, Jain said 18 international experts have presented their case studies on developing world class projects.

"We are experts too, but we need to learn from international developers who have the experience of managing and developing world class projects," he said.

Nobel Laureate Rajendra Kumar Pachauri, the chairman of the InterGovernmental Panel On Climate Change, also addressed the convention.

Jain was impressed with the strong CREDAI member support for the Singapore convention, with 40 speakers and attended by more than 900 developers.

"We are learning best practices of the international developers," he said, adding that CREDAI was addressed by 18 experts from Australia, Dubai, China, Hong Kong, Singapore, South Korea and the United Kingdom.

"We need to build 700900 million square metres of commercial and residential space which translates into two Mumbai cities or a new Chicago every year," said Jain, stressing on the importance of preparing Indian developers.

"The real estate developers, therefore, are going to be one of the big stakeholders in this growth," he added.

India will require 38 million affordable homes out of which 30 per cent should be rental housing alone.

Some cities are growing at 12 per cent to 15 per cent, where as average annual urban growth is 4 per cent.

"These are tremendous challenges we will face in the coming years," he said. The two-day convention ended on Friday.