Having experienced delays for his steel projects in Orissa and Jharkhand, steel magnate Lakshmi N Mittal said that India is not on his top priority for investments.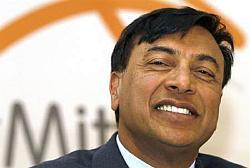 "I don't want give any timeline for our India project because we have experienced so much of delays. India is not on my top priority for investments. It is a top priority as a country but not for investments," said Mittal, chairman and chief executive officer of ArcelorMittal, on the sidelines of the 48th Convocation of the Indian Institute of Management, Ahmedabad (IIM-A) where he was invited as the chief guest.

Mittal said the global steel demand was looking to grow. "In spite of the fact that European steel demand is down by 30
per cent, but Europe is not the whole world. There are other countries like United States of America and whole of American region as well as emerging markets like India, China Africa. All these countries will continue to grow and global steel demand will continue to grow by 3-3.5 per cent. Europe per se is particularly weak. Steel sector will face challenges like over capacities. China is building over capacities and as long as it is consuming within the country, it is a great fuel," he added.
Meanwhile, terming the Indian economy's performance last year as "disappointing", Mittal said, "With the measures that the government has announced in last couple of months, the confidence is starting to build up. I hope the politicians continue to take such decisions and bureaucrats continue to execute them."