Ratings agency Standard & Poor's on Wednesday said there is an urgency of improvements in the power infrastructure, which was highlighted in the recent massive outages that had left nearly 800 million in dark for two days.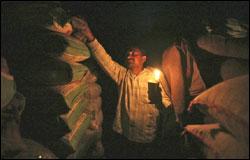 "The recent massive power failure highlights the country's poor power infrastructure and to the urgency of improvements," S&P said in a report titled 'Adequate infrastructure is essential to lighten India's power woes', released in Mumbai on Wednesday.
Late last month, the Northern, Eastern and North Eastern grids had collapsed leading to power failures in 20 states affecting nearly 800 million people, for two consecutive days.
"The blackout was, in our view, a consequence of capacity growth and infrastructure improvements that severely lag the demand for power," rating agency's credit analyst Rajiv Vishwanathan said.
However, the lack of fuel security is a major constraint to the growth of the generation capacity, and the slow pace of tariff reforms is hindering infrastructure investment at the state-level, he said.
According to the report, the aggressive economic growth targets for the next five years will add to the already high demand for power.
"This calls for a significant increase in funds to the sector. Power capacity has increased about 41 percent over the past decade. But, while the government has increased funding allocations to the sector in its recent five-year Plans, it has consistently failed to meet its planned capacity expansions," the report said.
Standard & Poor's further said the government isn't placing enough focus on improving the inadequate transmission and distribution infrastructure, particularly at the state-level, despite the large increase in installed power capacity.
"Although the recent outages were the only reported mass blackouts in the past 10 years, the stability of the transmission network has been managed through rotating power cuts--a less than optimal solution," it said.
Vishwanathan further opined that the weak credit quality of the downstream distribution companies, which the state electricity boards largely control, is a major hindrance to investment in the sector.
"Political resistance to tariff increases has often prevented generation companies from fully passing through cost increases, particularly for fuel, to the end customers.
Subsidies on power tariffs and free power to certain sections of the population have widened the chasm between tariff revenue and the cost of power supply to distribution companies," he said.
Even though some states have taken steps to increase distribution tariffs, due to the slow pace of implementing tariff reforms, only a gradual improvement in the finances of state utilities may be possible, it said.
Image: Parivartan Sharma/Reuters