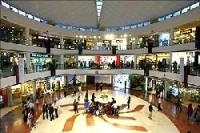 India is "seriously considering" to raise 51 per cent foreign direct investment cap in single brand retail, Commerce and Industry Minister Anand Sharma on Monday informed a business delegation from Italy.
"We have 51 per cent (FDI cap) in single brand retail and we are seriously considering how to raise it to a higher level," Sharma said.
He was addressing a meeting of the India-Italy Business Forum organised by Ficci in New Delhi.
Italy along with France boast of top global fashion labels, many of which are keen to strengthen their interest in the growing Indian market.
At present, global retail firms like Adidas, Nike, Louis Vuitton, Hermes and Gucci can invest up to 51 per cent in India and need a local joint venture partner.
This limitation has been a dampener for the fashion labels from Europe to increase their investment in India.
Sharma also said that there are huge opportunities available for businessmen of India and Italy to deepen their mutual engagement.
He said textile, fashion designing and leather are areas where both the countries can step up cooperation.
The minister said that Italian businessmen can also explore infrastructure sector, which needs $1 trillion between 2012 and 2017.
Italian Economic Development Minister Paolo Romani sought cooperation in sectors like automobile, infrastructure, renewable energy, defence and services.
"We have to focus more on increasing our bilateral trade. Italy can participate in India's infrastructure development. We have a knowhow of urban designing and airports," Romani said.
The bilateral trade between the countries stood at $8.8 billion in 2010-11.
Meanwhile, Ficci and its Italian counterpart Confindustria inked a pact to promote business interaction and foster trade and economic linkages.