Indian companies raised $1.99 billion from overseas markets in June, lower than $3.37 billion in the previous month, the Reserve Bank of India said on Wednesday.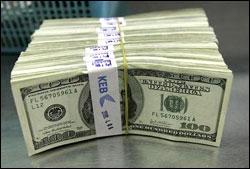 Indian firms raised the money via external commercial borrowings (ECBs) and foreign currency convertible bonds (FCCBs).
The companies raised $1.96 billion through automatic route and $31.52 million from approval route.
JBF Petrochemicals, JSW Steel, Rajasthan Sun Technique Energy, Mercedes-Benz India, Azure Solar, Ranbaxy Laboratories, Indian Synthetic Rubber and Subex were among the major companies that borrowed money from foreign sources during the month.
JBF Petrochemicals raised $416 million for its new project. Rajasthan Sun Technique Energy raised $268.33 million in four separate tranches to fund its power projects.
Mercedes-Benz India raised $232.14 million for modernisation purpose.
JSW Steel raised $225 million for redemption of FCCBs, while Subex raised $131.1 million for refinancing its FCCBs, RBI said.
Indian Synthetic Rubber raised $111 million to fund its new projects in two separate tranches, Azure Solar $70.36 million to fund power projects and Ranbaxy Laboratories borrowed $50 million in June.