India expressed the hope that all issues related to food security and trade facilitation will be resolved during the forthcoming meet of WTO members at Bali in December.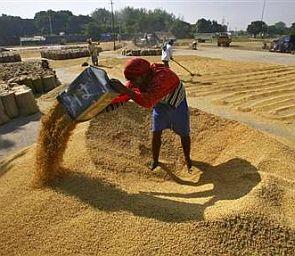 "It has become imperative to revisit the issue of food security at the WTO and I remain optimistic that we will have a resolution of all the issues related to multilateral trade," Commerce and Industry Minister Anand Sharma told reporters while returning with Prime Minister Manmohan Singh from Indonesia.

New Director General of the World Trade Organisation (WTO) Roberto Azevedo had recently said that India's food security law will raise subsidy levels and the issue needs to be addressed in a positive manner.

"On food security issue, here is a G-33 proposal to allow countries with food security law to procure goods for ensuring food security for its people. We have shown our willingness to find a common ground and take forward the negotiations," Sharma said.

He also said India will agree to negotiate about the trade facilitation pact.

India is keen to win legitimacy for its ambitious food security law that promises highly subsidised foodgrain to the poor from the WTO and is open to the issue being discussed at the Bali meeting.

The country is implementing the Food Security Act which entitles 82 crore people to 5 kgs of foodgrain per person in a month at the rate of Rs 1-3
per kg. The country needs 62 million tonnes of foodgrain in a year to implement the law.
Countries like the US and Canada have raised concerns over India's food security legislation. They have asked India to explain the effect the legislation will have on global stocks and commodity prices.
External Affairs Minister Salman Khursid also said this is absolutely an issue of high importance to India.
"It is important to make a very clear distinction that these stockpiles are not for trading, not for finding a market for our agriculture and other goods, but for safety and security of our people," he said.
He said that India would engage with every country that have similar concerns on food security.
"We are convinced that this is not just reasonable but also a moral imperative that we needed to do something of this nature for our people. This is something that must go hand in hand with our growth strategy," he said.
"Unless our people have food security, health security..., the (economic growth) numbers that please the world, those would not be enough," Khurshid said.
The 9th WTO Ministerial Conference will be held in Bali from December 3-6. The Ministerial Conference is the highest decision-making body of the 158-member WTO which meets at least once every two years.