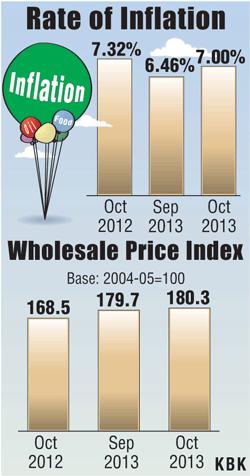 India's headline inflation accelerated to an eight-month high of 7.0 per cent in October, mainly driven by higher fuel and manufactured goods prices, government data showed on Thursday.

The wholesale price index's annual rise compared with a 6.90
per cent rise estimated by analysts in a Reuters poll. Wholesale prices, India's main inflation measure, had risen 6.46 per cent in September.
Food prices rose 18.19 per cent year-on-year in October, slower than an annual rise of 18.4 per cent in September.
The WPI inflation reading for August was revised to 6.99 per cent from 6.1 per cent.