India on Tuesday sought to downplay the United States's decision of exempting it from economic sanctions for cutting the oil imports from Iran, saying it was a "decision taken by the Obama Administration under its domestic law."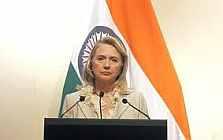 US Secretary of State Hillary Clinton had announced that India and six other nations would be exempted from financial sanctions as they have "significantly" cut purchases of Iranian oil.

"We have seen the US notification exempting Indian financial institutions from the application of the provisions of US domestic law for energy-related transactions with Iranian Central Bank and other financial institutions designated by US Government.

"This is a decision taken by the US Government under its domestic law," External Affairs Ministry spokesperson Syed Akbaruddin, said.

"India and the US have a growing strategic partnership. The India-US Strategic Dialogue on June 13 will once again demonstrate the strength of our relationship and the extraordinary breadth of our bilateral cooperation, based on our shared values and convergent interests.," Akbaruddin said.

India's official comment on Clinton's announcement earlier in the day was in line with what New Delhi has maintained throughout, that India does not believe in unilateral sanctions but it strictly abides and complies by multilateral sanctions like those by the UN Security Council.

Sources familiar with the discussions between the two countries on the issue acknowledged this was never a major issue between the two countries, and they were expecting that the waiver, even though not sought, would come before the strategic dialogue.