In a major boost to bilateral ties, India today announced a USD 500 million credit line for the traditionally close Chinese ally Myanmar even as New Delhi and Yangon decided to strengthen their strategic, economic and energy ties.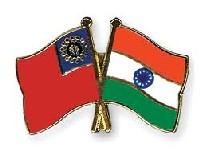 Visiting President Thein Sein and Prime Minister Manmohan Singh held extensive talks on bilateral, regional and international issues, including ways to open up border trade and speed up the construction of natural gas pipelines.

Singh offered USD 500 million in credit for infrastructure projects, including roads, inland waterways and ports to Sein who agreed to encourage further investments by Indian companies, both in public and private sector, in oil and natural gas sectors.

Today's credit line is in addition to nearly USD 300 million India had extended earlier for several infrastructural projects, including the development of railways, transport, power transmission lines and oil refinery.

The two leaders also agreed to enhance effective cooperation and coordination between the security forces of the two countries in tackling the menace of insurgency and terrorism which has caused countless loss of innocent lives, according to the joint statement.

The visit of the President of Myanmar, traditionally an ally of China, comes amidst crucial political developments in that country, including suspension of a USD 3.6 billion China- backed dam project by Yangon, release of political prisoners and Sein inviting democracy leader Aung San Suu Kyi for a political dialogue.

Congratulating Sein on the transition towards a democratic government, Singh offered all necessary assistance in further strengthening this democratic transition in an inclusive and broad based
manner.
Noting that both sides have a responsibility to promote peace, security and stability in the region, Sein and Singh emphasised the need to intensify economic, social and developmental engagement in order to bring about overall socio-economic betterment by strengthening the multifaceted relationship and decided to take it to a "new level".
Reaffirming their unequivocal and uncompromising position against terrorism in all its forms and manifestations, the two leaders reiterated the assurance that the territory of either would not be allowed for activities inimical to the other, the joint statement said.
They also resolved not to allow their respective territory to be used for training, sanctuary and other operations by terrorist and insurgent organizations and their operatives, said the joint statement.
Stressing their "unequivocal and uncompromising position against terrorism", the two sides decided to bolster institutional mechanisms for sharing of intelligence to combat insurgency, arms smuggling and drug trafficking.
Two pacts were also inked for the upgradation of Yangon Children's Hospital and Sittwe General Hospital and Programme of Cooperation in Science & Technology for the period of 2012-2015.
While discussing border management mechanisms, the two leaders directed the Heads of Survey Department of India and Myanmar to jointly work out and implement a schedule for inspection and maintenance of boundary pillars in the open season in 2011-12 in a time bound manner.
Expressing satisfaction at the implementation of the Kaladan Multi-modal Transit Transport Project, they decided to start the road component of the project at the earliest.
They also agreed to open an additional border trade point to allow smooth flow of commerce to be generated by the Kaladan Project.