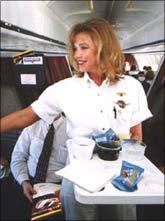 The Directorate General of Civil Aviation (DGCA) has convened a meeting of all domestic airlines on Friday to discuss rules to be put in place to ensure that safety operations on flights are not hampered when the cabin crew are busy selling merchandise to passengers on board an aircraft.
The DGCA is preparing a list of guidelines to be followed during in-flight shopping. Sales in short-haul flights may be scrapped," said a senior ministry official.
The aviation regulator, in a recent order, had directed domestic carriers not to sell merchandise goods, such as camera, sunglasses, watches and other electronic items, onboard without its prior approval. It had also asked air carriers to take immediate action and report to it before September 5 or face action.
While only two low-cost carriers, GoAir and IndiGo, at present have the system of in-flight sale of items like pens, watches and cosmetics, the other domestic airlines do not offer such services. Erstwhile Air Sahara (now JetLite) was the first to start the practice several years ago but have stopped it.
The DGCA has asked the airlines to stop onboard sale till proper procedures were put in place, official sources said, adding that food and non-alcoholic drinks are not covered by this order.
Prohibiting the physical sale of merchandise on board in domestic sectors, the DGCA order said the regulatory body has not granted approval to any domestic airline to sell merchandise on domestic sectors. This was also not documented in operations manual of the airlines. "It is felt  that such actions of airlines are not conducive to safety of operations as being carried out now," it said.
The sources said concerns were expressed over the limited number of cabin crew on board these flights, with many of them being busy selling these items on flight.
"This is eating into their duties to ensure operational safety, especially on short-duration flights," they said.
The DGCA order has come under criticism from the domestic carriers, but the officials point out that it was being done only to put in place rules and procedures to streamline these operations. The no-frill carriers say similar time was wasted by the cabin crew of full services airlines when they serve food and towels to the passengers.
"We want the system (of sale) to continue but some procedures have to be followed," they said, adding that the rules would be evolved within a "short span of time."
The officials said the representatives of domestic carriers have been called for a meeting in New Delhi on Friday to discuss and work out the issues.
Globally, low-cost airlines have been very aggressive in selling merchandise goods on-board on domestic as well as international sectors. The in-flight sales contribute 5-10 per cent to the total income of these carriers. In India, on-board sales of goods are yet to take off.
Additional inputs: Business Standard