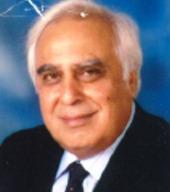 To end the stand-off between the government and agitating IIT faculty protesting anomalies in pay structure, HRD minister Kapil Sibal has agreed to meet the teachers on Friday.
This comes against the backdrop of an ultimatum given by the IIT faculty to the HRD ministry for holding a joint meeting of ministry representatives and teachers before October one to resolve the issue.
The IIT faculty had gone on fast on September 24 to oppose certain provisions in the pay structure like 40 per cent cap on promotion of professors to senior grade and contractual appointment of Ph.D holders at the entry level.
Sibal had disapproved the agitation by the teachers and said the ministry should not be given ultimatum for talks. He had justified the contentious provisions saying such conditions were aimed at promoting excellence. But the board of governors of the IITs will continue to have powers to relax norms for exceptional cases, Sibal had said.
However, as the IIT faculty stuck to their stand, the minister agreed to meet the teachers tomorrow. The IIT faculty has been informed about the development, the ministry said.
"We are very happy that the minister is giving us time. We are looking forward to a positive response from the government to our demand," All India IIT Faculty Federation president Prof M Thenmozhi said.
The faculty is of the view that contractual appointment at entry level will dissuade Ph.D holders from joining the elite institutes. But Sibal said contractual appointment at entry level is the norm world over since the new entrants do not have teaching and research experience.
Similarly, the faculty has been opposing the 40 per cent cap on promotion, saying that such restriction would affect the autonomy of the elite institutes. However, Sibal said promotion to the additional grade pay is an incentive scheme which would be given to really excellent faculty members.
Sibal has been asking the IITs to come up with a futuristic vision plan for raising their income, academic and research performance.
The ministry has decided to convene a meeting of IIT Council, the highest decision making body for the IITs, this month to take a decision on the issue of more autonomy to the institutes. The vision plan of IITs would be discussed at the council meeting.
Image: Kapil Sibal