Indraprastha Gas Ltd, the sole supplier of compressed natural gas in the national capital region, may have to increase gas prices by a record 20 per cent, or close to Rs 4.40 per kg. This may see a considerable increase in the fares of auto-rickshaws and buses, which run on this gas. CNG in Delhi currently costs Rs 21.90 per kg.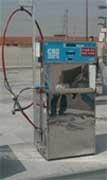 "A rise of around 20 per cent looks probable. However, we are working out the exact increase which will be passed on to consumers. A decision will be taken by Monday," IGL Managing Director Rajesh Vedvyas told Business Standard.
However, IGL's share price has taken a beating at the stock exchanges.
IGL in Delhi and Mahanagar Gas Ltd in Mumbai are the only city gas companies in the country that buy government-controlled gas, also called APM (administered price mechanism) gas.
The government on Wednesday increased prices of APM gas by over 100 per cent to $4.20 per million British thermal units. The APM gas price increase will come into effect once the central government notifies it.
APM gas accounts for over 90 per cent of IGL's gas consumption. Apart from 2.2 million standard cubic metres of gas a day (mscmd) under APM, IGL also buys .308 mscmd of gas from Reliance Industries KG D6 block and .4 mscmd of regassified LNG.