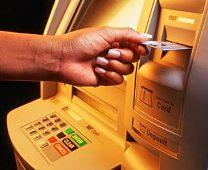 IDBI Bank is planning to create a separate entity in partnership with private ATM service providers for running 'White-label ATMs' -- not tied to any bank -- in the country.

"We will soon approach Reserve Bank of India with our plan," R M Malla, chairman and managing director, told Business Standard.

Customers from any bank can deposit or withdraw money from 'white-label ATMs'. Their banks then pay for the service. Also, such ATMs are invariably owned by a third-party, not a bank.

At present, under RBI guidelines, ATMs can only belong to a particular bank.

Transactions of customers from other banks are settled by paying Rs 14 as the charge per transaction by the bank in which the customer has his account.

RBI has been reluctant to allow white-label (or no name) ATMs by non-banking entities.

Malla said RBI felt only banks should own ATMs so that the flow of funds can be accounted for, regulated and monitored.

"However, with a new entity created jointly and handled by a bank, the situation would be different and RBI's concerns can be taken care of.

If globally this has happened with proper precautions, why should it not work in India with strict due diligence?" asked Malla.

Many services in the banking domain were common, he noted. Obviously, it was difficult for
banks to create a common platform for these services.
"There could be some entity, however, whose proper due diligence has been done and which specialises in this area. We want to be a major player in this," he said.
IDBI has started working towards this goal. It has 1,400 self-managed ATMs across the country. "In the next 12 months, we have planned to raise the number to 2,500, with a strong focus on low-cost ATMs," said Malla.
The bank has decided to tie up with ATM service providers for this. Of  the 1,100 ATMs to be added during this period, 500-750 ATMs will be outsourced.
"This will save us the cost of setting-up and running ATMs, as we will have to pay the service provider a specified amount per transaction.
It will be the service providers' responsibility to create the infrastructure and run the ATMs," said Malla.
Adding: "We are evaluating proposals of various ATM service providers. We will set up ATMs with them. Then, at some point of time, we will partner with them for starting the white-label ATMs venture if RBI permits."