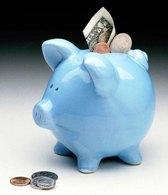 Two more leading public sector lenders, Central Bank of India and IDBI Bank, on Friday joined the rate hike spree following the Reserve Bank's recent hike in interest rates by announcing a hike of 75 basis point in their base rates.
The Mumbai-based Central Bank of India effected the steep 75 basis points hike in its base rate to 10.75 per cent, a senior bank official told PTI here.

Another city-based lender IDBI Bank also hiked its base rate and lending rates by 75 bps each to 10.75 percent and 15.25 percent, the bank said in a statement.

The hikes have been done "keeping in view the measures announced by RBI, inflation and liquidity scenario," an IDBI statement said.

Both IDBI and Central Bank of India said the hikes are effective August 1.

On July 26, RBI had increased its short-term lending and borrowing rates by a higher-than-expected 50 bps to 8 percent and 7
percent respectively, saying inflation is the biggest threat to the economy and not a moderation in growth numbers. The very same day private sector bank Yes Bank had raised its rates by 50 bps.
The Central Bank, which declared a 17 percent drop in Q1 results to Rs 281 crore (Rs 2.81 billion) today on higher provisioning, also increased its prime lending lending rate by 50 basis points to 15 per cent.

On the deposit rates side, the Central Bank of India official said they have increased it by 40 basis points in a short term bucket, leaving the rest unchanged.

IDBI Bank increased deposit rates by 25 to 150 basis points in different maturity buckets, a statement said.

On Thursday, Bangalore-based Canara Bank (50 basis points) and Bank of India (75 basis points) too had upped their base rates. Other lenders who have acted on cue from RBI include ING Vysya and Ratnakar Bank.