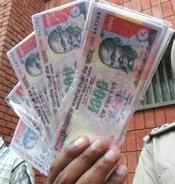 With the Indian Premier League (IPL) story getting murkier, investigative agencies have cast their net wide to include banks. The idea is to dig out information about their financial exposure to the 10 IPL franchisees.
Intelligence agencies are approaching the Reserve Bank of India and the finance ministry to get details on banks' financial support like loans and guarantees.
This issue has become crucial as some investors in the franchisees are overseas firms registered in tax havens and there is little information about their sources of funding.
With allegations of laundered money being used by some of the IPL franchisees, the Intelligence Bureau is examining whether any bank in India issued any guarantees and money to IPL franchisees and whether the Know Your Customer guidelines were followed diligently.
If required, the ambit of the examination could expand to include overseas offices of banks. Sources said there are limitations on agencies seeking information directly from banks.
The banking regulator is better equipped to gather information and the finance ministry can facilitate interaction with public sector banks. Sources said some banks have already been approached though there is no formal communication.