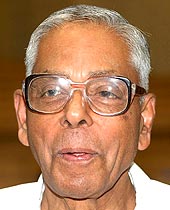 West Bengal Governor M K Narayanan said on Friday he had thought that the the Singur legislation did not require Presidential approval, three days after the Calcutta High Court ruled it as constitutionally invalid and void.

"I thought we did not require presidential approval. That was legal advice also," the Governor told reporters on the sidelines of a function in Kolkata.

"If the high court felt otherwise, it is fine.

"What can we do?" he asked.

Communist Party of India (Marxist) leader and state CITU president Shyamal Chakraborty said, 'it is unfortunate that the governor was not properly advised legally. I don't know who the advisers of the governor are.'

In a setback to the Mamata Banerjee government, Calcutta High Court had ruled on June 23 that the Singur Land Rehabilitation and Development Act, 2011, introduced by her government to recover land leased to Tata Motors in Singur for its small car project was constitutionally invalid and void.
Image: M K Narayanan