The indefinite hunger strike by two senior union leaders of auto major Mahindra & Mahindra's Nashik facility entered the 5th day without any impact on production at the plant.
"We will continue to fast till the management signs the long pending wage agreement with us," Nashik plant employees union general secretary Pravin Shinde said.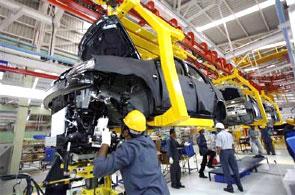 Shinde, along with union vice president Amol Sonwane, is sitting on hunger strike in front of the deputy labour commissioner's office since May 1, demanding from the Mahindra management to renew the wage accord, which expired in February.
A company official, however, termed the hunger strike as an "issue of some individuals" which has no bearing on the production.
"The matter (of wage agreement) is being discussed with the deputy labour commissioner. As far as the hunger strike is concerned, it is an issue of some individuals and not the union. The business at the plant is as usual," the official, who did not wish to be identified, said.
The union is demanding inflation-linked wage revision, besides restricting the wage agreement period to three years against three-and-a-half years now.
However, the hunger strike by the two leaders has not affected the production at the facility as other workers remain on duty.
The Nashik plant, which employs around 4,000 workers, produces Xylo, Bolero, Quanto and Scorpio models of the SUVs besides the mid-size sedan Verito. It rolls out 550 vehicles per day in three shifts.