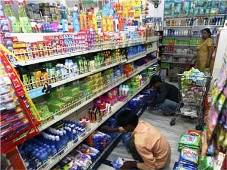 Anglo-Dutch major Unilever, in its just-released annual report for 2012, said there was a risk of a modest slowdown in India, China and Brazil.

This sparked a sharp reaction from Indian investors.

The stock of Hindustan Unilever Ltd was down 1.3 per cent on the Bombay Stock Exchange, to close the day at Rs 472 apiece.

Unilever, which derives 52-53 per cent of its $70-billion revenues from emerging markets, said it expected economic pressures to continue in 2013.

"We expect markets to remain 'flat to slightly down' in developed countries.

"In emerging markets, demand remains robust, but there is the risk of a modest slowdown in key markets," Unilever said.

The last three quarters have been particularly challenging for the Indian unit of the world's second-largest consumer products company, with volume growth steadily coming down from 9-10 per cent in the June 2012 quarter to seven per cent in the three months ended September 2012 to five per cent in the three months ended December 2012.

Analysts estimate the March quarter to be just as challenging for HUL, with volume growth likely to be five-six per cent.

"While HUL might benefit from softening input prices, competitive activity will continue to be high," Amar Ambani, head of research at Mumbai-based
brokerage India Infoline said.
Brokerage CLSA, while putting a sell target on HUL on Tuesday, said it was factoring in a volume growth of 5.5 per cent in the fourth quarter.
"Our channel checks indicate offtakes have been under pressure," it added.
Unilever said, "The competitive environment for our business is likely to remain intense in 2013.
"Our competitors, both global and local, will continue to shift resources into emerging markets.
"We expect continued high levels of competitive challenge to our many category leadership positions.
"Some of this may be price based, but we also expect strong innovation based competition."
Incidentally, growth concerns for Unilever in emerging markets comes at a time when it has raised the rate of royalty in these countries.
In India, for instance, HUL signed a new agreement with its parent in January this year, which would see it pay 3.15 per cent of sales as royalty by March 2018 from 1.4 per cent.
The increase would happen in a phased manner.
The Indian market was the second one after Indonesia to see a royalty hike by Unilever.
Beginning 2013, royalty payout by Unilever Indonesia would increase to 5 per cent of sales from 3.5 per cent, the company had said in December 2012.