State-run oil marketing firm Hindustan Petroleum Corp Ltd (HPCL) is planning to invest Rs 600-700 crore (Rs 6-7 billion) to set up its second underground liquefied petroleum gas (LPG) storage facility in Mangalore. The company could rope in its partner, Total SA of France, to build the cavern.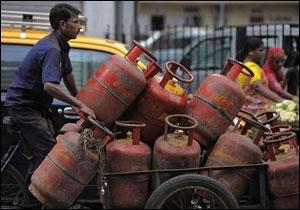 "Given the demand for LPG, we think importing in large quantity would make more sense than importing in smaller capacity. We are discussing the feasibility of this project and would decide on the same in the next six months," said a senior HPCL official, requesting anonymity.
Of the three oil marketing companies, IndianOil Corp Ltd holds 48 per cent of LPG market share. Bharat Petroleum Corp Ltd and HPCL's market share stands at 26 per cent each.
HPCL and Total, through their equal joint venture, South Asia LPG (SALPG), already have a 60,000-tonne capacity LPG underground storage facility in Visakhapatnam, Andhra Pradesh. The facility was commenced in 2007 at an investment of Rs 333 crore (Rs 3.33 billion). The Mangalore facility will also have 60,000 tonnes capacity.
"We may, however, go solo or take Total along in this project," the official said.
HPCL on its website says its cavern at Visakhapatnam has been dug in rock to store LPG. The storage facility is made up of two caverns of 19 metres height, 20 metres base width and 160 metres in length with interconnections. The cavern is designed on "water containment principle" and is jacketed with water curtain. Besides being safe from natural calamities and hazards like sabotage, and aerial bombings, the caverns are leak and fireproof.
The HPCL official said that looking at the growing demand for LPG in the country, a new cavern made commercial sense. The facility would be exclusively used by HPCL.
According to data from the petroleum planning and analysis cell, India consumed 5.08 mt of LPG in 2011-12 against 4.50 mt, an increase of 13 per cent. Till December 2012, however, the total consumption of LPG in the country stood at 4.39 mt.
Industry players said that with the ceiling on capping of subsidised cooking gas cylinders increased from six per household to nine from April 2013, demand for LPG could go up next financial year.