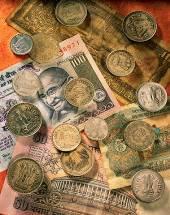 In highly volatile trade, the rupee on Tuesday closed eight paise lower at 52.72 on heavy dollar demand from importers, after surrendering an impressive gain of 41 paise in early trade.

A firm dollar in overseas market also weighed on the rupee sentiment while capital inflows into Indian stocks provided some respite, forex dealers said.

At the Interbank Foreign Exchange market, the domestic currency opened strong at 52.39 a dollar from last close of 52.64.

It quickly touched a high of 52.23 on the back of smart gains logged in local stocks in early trade.

However, the rupee fell back after morning session and touched a low of 52.83 -- its lowest in a week.

Sustained dollar demand from importers, mainly oil refiners, and some banks put pressure on the rupee.

The New York crude oil was trading above $90 a barrel on Tuesday.

The rupee finally finished a tad better at 52.72 -- a drop of eight paise.

On Monday, rupee had registered its second biggest fall of 79 paise in 2012 calender year.

On last Friday, the currency had lost 11 paise.

Traders said the dollar index, a barometer of six major global currencies, was up by 0.10 per cent due to safe-haven related support after reports that IMF cut its forecasts for global growth.

"The losses in rupee were seen on account of weakness in Euro after
the ECB President Mario Draghi expressed his concerns over financial instability in the Euro region.
"Also, a recovery in the dollar index contributed to the weakness," said Abhishek Goenka, Founder & CEO, India Forex Advisors.
The Indian stock market benchmark Sensex, which was up by nearly 177 points in morning trade, dropped on profit-booking after mid-session but still closed up by 84 points.
Forex analysts also said the rupee also saw some pressure after IMF slashed its growth forecast for India.
"The IMF meanwhile has slashed its 2012 GDP growth forecast for India, to 4.9 per cent from 6.2 per cent earlier.
"IMF has also lowered the global growth estimates, citing mostly problems in Europe," said Amar Ambani, Head of Research, IIFL.
The premium for the forward dollar closed weak on fresh receipts by exporters.
The benchmark six-month forward dollar premium payable in March ended lower at 157-159 paise from Monday's close of 160-162 paise.
The premium for far-forward contracts maturing in September also slid to 302-304 paise from 306-308 paise.
The RBI has fixed the reference rate for the US dollar at 52.3750 and for euro at 67.9895.
The rupee moved down further against the pound sterling to 84.50 from overnight close of 84.45 and also softened to 68.22 per euro from 68.18.
It eased further against the Japanese yen to 67.39 per 100 yen from previous close of 67.23.