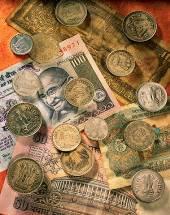 Snapping its five-session losing streak, the rupee on Tuesday gained 28 paise to 55.45 against the US dollar, buoyed by a stable outlook for the economy by rating agency Moody's and a sharp rise in local equities.

Forex dealers said rupee sentiment was also boosted by investor optimism that the government will be able to push through economic reforms.

Meanwhile, dollar weakened against rival euro in Asian trade after euro zone leaders and IMF agreed a new debt target for crisis-ridden Greece.

The 17-nation currency bought $1.2984 in Tokyo.

The domestic unit moved in a range of 55.77-55.44 during the day at the Interbank Foreign Exchange market.

It finally concluded at 55.45, showing a rise of 28 paise, or 0.50 per cent from its last close.

In the previous five sessions, rupee had fallen by 67 paise, or 1.22 per cent.

Moody's on Tuesday
said India rating outlook is stable because of the country's strong economic growth along with high savings and investment rates.
"India's Baa3 rating and stable outlook are supported by credit strengths which include a large, diverse economy, strong GDP growth and savings, and investment rates that exceed emerging market averages," the global rating agency said in its 'Credit Analysis on India' report.
"A positive domestic equity markets engulfed the negative vibes of the Parliament logjam, thereby inducing gains in rupee after recent fall.
"The exporter selling and profit taking at higher levels capped the advances," Alpari Financial Services (India) CEO Pramit Brahmbhatt said.
"The rupee was seen trading parallels with Dollar index, when it slipped to 80.10 levels rupee was seen touching 55.77 levels while Dollar Index recovering to 80.30 levels was followed by recovery in rupee," said Abhishek Goenka, Founder and CEO, India Forex Advisors.