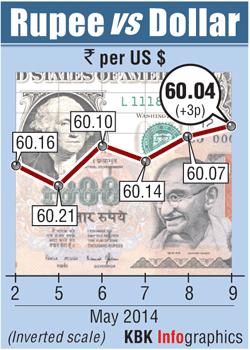 The Indian rupee gained for a second consecutive session on Friday to a near one-month high, sparking suspected central bank intervention after shares surged to a record high on hopes the opposition Bharatiya Janata Party would win a majority in elections ending next week.

Several dealers said the Reserve Bank of India was spotted buying dollars throughout the day to prevent the rupee from strengthening excessively above 60 to the dollar.

Traders expect the rupee to continue to hold in a tight 59.80 to 60.20 per dollar on Monday ahead of exit polls due to be released after 1830 India time (1300 GMT).

Though these polls have proved unreliable in previous elections, traders expect to get some clarity on what the final results to be released on May 16 may look like.

Markets have priced in a narrow victory for the opposition Bharatiya Janata Party and its allies in the 543-seat lower house of parliament.

"The equity markets reacted positively on hopes of a strong mandate for the BJP, but rupee investors acted more wisely," said Subramaniam Sharma, director at Greenback Forex.

"I expect the unit to hold in a 59.60 to 60.50 range and at best gain to 59.20 or fall to 60.80
due to the election results," he added.
The partially convertible rupee closed at 60.02/03 per dollar compared with its previous close of 60.0650/0750 on Thursday.
The unit rose as high as 59.9250, not far from its one-month high of 59.9225 hit in the previous session.
Data released after market showed India's trade deficit narrowed in April to $10.09 billion on the back of a fall in imports and an uptick in exports, easing pressure on the country's current account balance.
On the week, the rupee rose 0.24 percent, its second straight weekly gain after four weeks of decline.
The rupee rose on Friday as India's main share index hit a record high on Friday, posting its biggest daily gain since September.
Traders said the central bank was also doing sell/buy swaps in the forward market to reduce the impact of its spot dollar buying intervention on rupee liquidity.
The one-year onshore forward premium rose to 483.25 points versus its previous close of 472 points.
In the offshore non-deliverable forwards, the one-month contract was at 60.32 while the three-month was at 61.