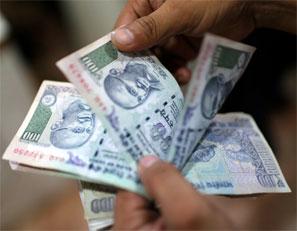 The rupee fell slightly on Monday, retreating from a nearly 10-month high hit earlier in the session, on the back of suspected heavy dollar buying by the central bank ahead of exit polls due out later in the day.

Initial gains in the rupee tracked a rally in Indian shares to record highs on widespread hopes that those projections would show the Bharatiya Janata Party and its allies winning a majority in the elections, given the opposition is seen by markets as being more investor friendly.

The optimism comes even as exit polls by media organisations -- due to be released after 6.30 pm on Monday (1300 GMT) once the last votes are cast -- have proven unreliable in the past. Actual results are due on Friday.

"There was relentless buying interest seen from state-run
banks.
"The exit polls are likely to have their impact on the rupee tomorrow.
"If there is no clear majority for the National Democratic Alliance, we can expect some nervous trading," said Hari Chandramgethen, head of foreign exchange trading at South Indian Bank.
The partially convertible rupee closed at 60.05/06 per dollar compared with 60.02/03 on Friday. The unit gained to as high as 59.51, its strongest since July 29.
Most dealers said the heavy buying by state-run banks was on behalf of the central bank, looking to limit the volatility in the rupee, in the face of foreign fund flows into the share market.
In the offshore non-deliverable forwards, the one-month contract was at 60.36 while the three-month was at 61.07.