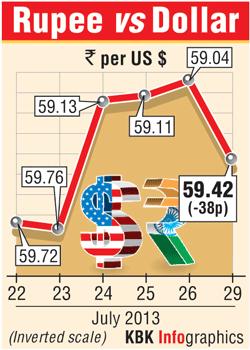 The rupee fell for the first session in four on Monday on the back of dollar demand from oil importers and caution ahead of the Reserve Bank of India's policy review that may give cues about its stance after recent measures to defend the currency.

The Reserve Bank of India is widely expected to keep rates and the cash reserve steady when it unveils monetary policy on Tuesday.

Forex dealers will keenly watch, instead, if the central bank indicates more measures to stabilise the currency or gives a timeframe for its current action.

After trading hours, the central bank said in a report that the priority for monetary policy was to restore stability in the forex market.

The central bank's cash tightening steps over the previous two weeks have pushed up the overnight rate to more than 10 percent, making the cost of rupee borrowing for currency speculation expensive.

The rupee has strengthened to as much as 58.69 since the RBI first unveiled its measures on July 15, but has never closed below 59 since then, and still remains within sight of a record low of 61.21
hit earlier this month.
"The rupee sentiment is generally weak because of month-end dollar demand from importers.
"But I expect whatever measures are taken in the policy to be rupee positive and cap the rupee losses to 59.50 to a dollar," said Anil Kumar Bhansali, vice-president at Mecklai Financial.
The partially convertible rupee closed at 59.4150/4250 per dollar compared with 59.04/05 on Friday.
The rupee's losses on Monday were largely driven by weak stocks, which extended losses for a fourth day, and dollar outflows related to month-end demand from oil refiners.
Dealers also cited outflows to the tune of $250 million related to dividend payments by ITC.
In the offshore non-deliverable forwards, the one-month contract was at 59.89 while the three-month was at 60.75.
In the currency futures market, the most-traded near-month dollar/rupee contracts on the National Stock Exchange, the MCX-SX and the United Stock Exchange all closed around 59.66 with a total traded volume of $2.6 billion.