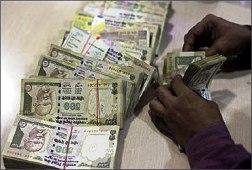 The rupee on Friday dipped by 21 paise to slip below the 55-mark after three weeks to close at 55.06 against the dollar due to sustained demand for the US currency from importers to meet their month-end requirements, amid renewed concerns over the US budget issue.

Forex dealers said a firm dollar overseas also weighed on the rupee sentiment.

However, sustained capital inflows restricted the local unit's fall to some extent.

The rupee moved in a range of 54.99 and 55.30 against the dollar at the Interbank Foreign Exchange market before settling at 55.06, a loss of 21 paise, or 0.38 per cent, from its previous close.

"The weakness in rupee was mainly on account of recovery in the dollar index, euro falling below $1.3200 levels and uncertainties over US fiscal cliff. All the Asian currencies were trading on a negative note against the US dollar," said Abhishek Goenka, Founder and CEO, India Forex Advisors.

"There is a risk aversion taking place in the market, as can be seen from weakness in riskier assets globally. Going ahead, fiscal cliff concerns will continue to keep rupee under pressure," he added.

The dollar index was up by 0.19 per cent against a basket of six major global currencies after reports said that
US Republican leaders cancelled a planned vote that would permit higher taxes amid stalled budget talks.
In the United States, the fiscal cliff is a term used to refer to the economic effects that could result from tax increases, spending cuts and a corresponding reduction in the US budget deficit beginning in 2013 if existing laws are not changed by the end of 2012.
"The rupee shed a part of its weight after rising over its previous lows on lower than expected bond cut off yields for Rs 12,000 crore (Rs 120 billion) bond auction and also a good buy back acceptance by RBI," Pramit Brahmbhatt, CEO, Alpari Financial Services (India), said.
The premium for the forward dollar declined further on sustained receipts by exporters.
The benchmark six-month forward dollar premium payable in May slipped to 157-1/2-159-1/2 paise from Thursday's close of 160-162 paise.
Far-forward contracts maturing in November also dropped to 301-303 paise from 308-1/2-310-1/2 paise.
The RBI has fixed the reference rate for the US dollar at 55.0860 and for euro at 72.7730.
The rupee moved down further against the pound sterling to 89.44 from previous close of 89.28 and also remained weak against the Japanese yen to 65.42 per 100 yen from 65.23.
However, it recovered slightly against the euro to 72.71 from last close of 72.75.