Benchmark share indices ended lower on Friday dragged by rate-sensitive shares as hopes of a rate cut remained elusive after better-than-expected Apr-Jun GDP data. Selling pressure in index heavyweight Reliance Industries also dampened sentiment.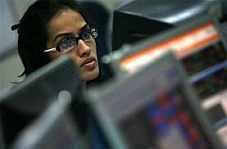 The Sensex lost 161points at 17,381 after touching an intra-day low of 17,337 and the Nifty declined 57points to 5,258 after touching a low of 5,239 so far.

In the broader markets, the midcap and the smallcap indices closed flat with a positive bias outperforming the Sensex which lost nearly 1 per cent.

India's economy grew at a higher-than-expected 5.5 per cent in the quarter ending in June, against analysts' forecasts of 5.3 per cent, government data showed on Friday.

The manufacturing sector grew an annual 0.2 per cent during the quarter, while farm output rose 2.9 per cent, the data showed. In the quarter ending in March, economic growth was at 5.3 per cent.

On the global front, Japan's Nikkei average fell to a four-week closing low on Friday as resources-related shares remained under pressure on concern over slowing China growth, while Sharp Corp sank on uncertainty over a tie-up with Taiwan's Hon Hai Precision Industry. The Nikkei ended down 1 per cent while the Hang Seng and Shanghai Composite were down 0.3 per cent each.

European shares ticked up in choppy trade on Friday as investors braced for a speech by U.S. Federal Reserve Chairman Ben Bernanke that could offer clues on the central bank's next policy steps. The CAC-40, DAX and FTSE-100  gained between 0.3-0.6 per cent each.

All sectoral indices on the BSE closed in the negative terrain with Metal index down over 1.4 per cent followed by Power, Oil&Gas, Realty, Auto and IT indices down between 1.1-1.3 per cent each.

Index heavyweight Reliance Industries was down 2.1 per cent at Rs 765. Citigroup has downgraded Reliance Industries to "neutral" from "buy", but raises its target price to 847 rupees from 818 rupees.

ICICI Bank was down 1.7 per cent on profit taking. Meanwhile, Nomura has upgraded ICICI Bank to "buy" from "neutral" saying the Indian lender was "better shielded from the asset quality deterioration" in the banking sector, and expects return on equity to increase by 15 percent by fiscal 2013.

FMCG shares which had gained in the previous few sessions also witnessed profit taking. Hindustan Unilever was down 2 per cent while ITC slipped 1 per cent.

Software exporters were down ahead of US Fed Chairman Ben Bernanke's address to the annual Jackson Hole meeting of central bankers later today. TCS was down 1.7 per cent while Infosys and Wipro slipped 1-2 per cent each. These software firms earn most of their revenues from exports to the US.

Auto shares witnessed profit taking on concerns that August sales growth would continue to remain subdued and demand would further slowdown on account of high interest rates on auto loans and rising fuel prices. Tata Motors, Maruti suzuki, Bajaj Auto, Hero MotoCorp and Mahindra & Mahindra were down between 1-2 per cent each.

Capital goods shares also witnessed selling pressure as manufacturing segment witnessed dismal growth during the Apr-Jun quarter. During the quarter ended June 30, the manufacturing sector grew marginally by 0.2 per cent, against 7.3 per cent growth in the same period of 2011-12, according to the official data released today. BHEL was down 2 per cent while L&T slipped 1 per cent.

Metal shares were down on concerns of that demand would slowdown after China's factory output rose to its slowest rate in eight months in July. China is the world's largest metal consumer. Sterlite, Tata Steel, Hindalco were down 1-2 per cent each.

Among other stocks, GMR Infrastructure dipped 4.7 per cent to Rs 18.25, recovering from its record low of Rs 17.60 on back of heavy volumes on the Bombay Stock Exchange.  A combined 13.03 million shares have changed hands on the counter so far against an average 8.5 million shares that were traded daily in past two weeks on both the exchanges.

Industrial finance Corporation of India (IFCI) dipped 4 per cent to Rs 26.10. The stock tanked 26 per cent in past six trading sessions from Rs 34.95 after the government approved conversion of Rs 923 crore debentures held by it in the company into equity, which will increase its stake in the financial institution to 55.57 per cent.

The market breadth was weak with 1,423 losers and 1,381 gainers on the BSE.