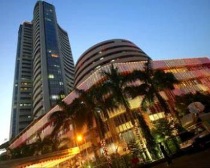 After having witnessed negative trades for the first half of the trading session, the markets rebounded in late-noon trades and ended the day on a firm note.

The BSE Sensex ended at 17,185, up 80 points and the Nifty ended at 5,216, up 23 points.

Earlier in the day, the benchmark index touched the day's low at 17,039 as gains in private bankers helped offset losses in index heavyweight Reliance Industries in addition to Tata Motors and SBI.

Asian shares remained lacklustre on Wednesday after Federal Reserve Chairman Ben Bernanke offered a gloomy view of the US economy, but hopes that the central bank is moving closer to more stimulus measures limited the day's losses.

Chinese shares underperformed the region, dragged down by property plays after data showing another year-on-year dip in home prices spurred profit-taking in one of this year's biggest outperformers in Asia.

The Hang Seng was down 1.1% and Nikkei slipped 0.3% while Shanghai Composite was marginally up by 0.4%. European shares edged up but the euro eased on Wednesday after testimony from US Federal Reserve Chairman Ben Bernanke that offered little guidance on whether the central bank was moving closer to new stimulus measures.

The CAC-40, DAX and FTSE-100 were trading with marginal gains.

On the sectoral front, BSE Metal, Capital Goods, Realty and Auto were the top gainers, up 1-2% each, while Oil & Gas, Healthcare and Consumer Durables were down marginally.

Among Sensex shares, Tata Motors was the most prominent loser, down 2% at Rs 222.

Tata Motors after turning ex-dividend today for dividend of Rs 4 per share for the year ended 31 March 2012.

The dividend shall be paid / dispatched on and after August 14, 2012.

Reliance Industries was down 0.5%. Reliance Industries and its British partner BP Plc have warned that eastern offshore KG-D6 gas fields will stop producing in 2015
unless the government approves investments needed to keep the nation's largest gas fields alive.
Bharti Airtel ended marginally higher at Rs 325. Meanwhile, the Empowered Group of Ministers (EGoM) today asked the Department of Telecom to prepare a matrix of reserve price of spectrum auction and its impact on tariffs and revenue to the government.
Among the gainers, Bajaj Auto was up 5.2%. Two-wheeler major Bajaj Auto reported an almost flat net profit of Rs 718 crore for the quarter that concluded in June 2012.
It was Rs 711 crore in the same quarter a year ago. Total income marginally decreased by 4% to Rs 4,850 crore as against Rs 5,048 crore in June 2011.
Coal India was up 1.4% after foreign brokerage CLSA upgraded the stock to "outperform" from "underperform" and raises its target price to Rs 390 from Rs 340. CLSA said production has improved "substantially" in the April-June quarter and sees a "high" probability that fiscal 2012/13 targets will be met.
Tata Power, Jindal Steel, Sterlite Industries and Maruti Suzuki advanced 2-3% each.
Among the private bankers ICICI Bank was up 1.6% while HDFC Bank was up 0.7% each. Infosys was up 0.23% on value buying at lower levels after the stock witnessed selling pressure last week following lower dollar revenue guidance for FY13.
Among other shares, Bajaj Finserv ended up 4.4% at Rs 713 is trading higher by 5% at Rs 712 on reporting a 51% year-on-year growth in consolidated net profit at Rs 195 crore for the quarter ended June 2012, on back of strong growth in operational income.
The consolidated income from operations grew 51% at Rs 927 crore on y-o-y basis.
Reliance MediaWorks soared 5% to end at Rs 62.20, after the company inked a term-sheet agreement to raise up to Rs 605 crore from a foreign Private Equity (PE) fund.
The overall market breadth was neutral as 1404 stocks advanced against 1,374 advances, on the BSE.