Standard Chartered Bank's aim of expanding its consumer banking business in South Asia was strengthened when it convinced Sanjeeb Chaudhuri to join the bank earlier in July.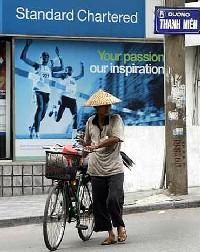 Chaudhuri, a seasoned banker known for his hands-on approach in retail banking, joined Standard Chartered Bank as regional head – South Asia and group chief marketing officer for consumer banking.

Prior to this appointment he was the chief executive for Citibank's retail and commercial banking operations in central and eastern Europe, west Asia and Africa. Born and brought up in Mumbai, Chaudhuri was based in London for the past 14 years.

Chaudhuri is joining Standard Chartered at a time when the banking sector is likely to be opened up foreign banks who have ambitious plans to grow their retail presence in the country.

Standard Chartered is currently the largest foreign bank in India in terms of  number of branches. It has 94 of them across 37 cities and boasts 2 million retail customers.

Chaudhuri replaced Shyam Srinivasan who had actually left Standard Chartered in August of last year to join Federal Bank as
the chief executive officer.
Vishu Ramachandran, the regional head for west Asia, Pakistan and Africa, stepped into the breach and managed the bank's consumer banking business until Chaudhuri took over.
"Sanjeeb is an internationally experienced banker and a well respected leader with a reputation for driving change and innovation and delivering strong top line and bottom line results.
His track record of achieving and hands-on approach is exactly what we need to take our consumer banking transformation to the next level in South Asia and drive our brand recognition to greater heights globally," says Steve Bertamini, chief executive of consumer banking and group executive director of Standard Chartered Bank.
Chaudhuri, however, is not only known for his achievements in the banking industry. He worked in sales, marketing and senior general management positions in some of the top global consumer goods companies.
He has served as a senior general manager for Unilever's food and beverage business and also worked with Colgate-Palmolive and Procter and Gamble.
Many of his former colleagues believe that his diverse industry experience has helped him flourish in his role as a consumer banker.