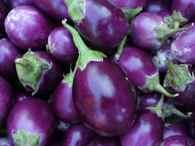 Indicating that introduction of Bt Brinjal in India could be avoided, Anand Agriculture University (AAU) vice chancellor Dr M C Varshaney on Monday said that there were other ways to increase yield and control the pests in brinjal.
When asked if it was necessary to introduce a genetically modified (GM) food crop like Bt Brinjal in India, Varshaney said, "There were other ways like use of bio control measures to control pests in brinjal. Research on this and on increasing yield of brinjal were going on in agriculture universities across the country."
He however, declined to take a stand whether he was for or against introduction of Bt Brinjal in India. "We are agriculture scientists. We cannot comment on policy matter like this," Varshaney said. "AAU has been conducting field trials of Bt Brinjal seeds produced by MAHYCO since last two years. The results show that yield of the Bt Brinjal seeds was superior to that of normal brinjal and it also showed good resistance to pests," Varshaney said.
"We have not conducted edibility test for bt-brinjal, so we don't know about its effect if consumed," he said.
The central government's Genetic Engineering Approval Committee (GEAC) had in October 2009 given clearance to commercial production of Bt Brinjal, the first ever GM food crop to be cultivated in India.