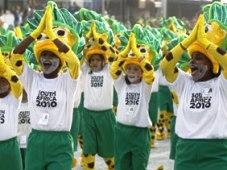 The football frenzy for the past one month was not in Africa alone.
For those who don't wish to watch their favourite game on a television in their living room, the perfect place was to head to a nearby hotel or a pub where the whole action was simulated to give a stadium-like feel with a giant screen and hordes of football fans cheering and jeering the teams.
Sitting back in India, this was the closest one could get to the stadia experience. Crowne Plaza in Gurgaon screened the matches in its Connexions bar and lounge, which was open 24 hours during the World Cup.
"We saw increased footfalls during the matches. People booked tables in advance to get their favourite viewing spot," said a spokesperson of Crowne Plaza Hotel Gurgaon.
Marriott Hotels also cashed in on the football fever with screening of matches in the restaurants of all its hotels. "We did a lot of in-house activity across our bars in Marriott and Courtyard hotels.
"There wasn't phenomenal increase in business, but there was a lot of enthusiasm in the crowd," said Rajeev Menon, area vice president, Marriott International - India, Pakistan, Maldives and Malaysia.