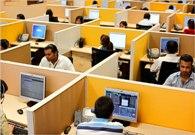 Amid the growing role of human resource management as a business driver, hiring right talent with the required skill sets still remains a challenge for companies, experts say.
With the economy looking up, companies have started planning their future strategies but it they have found that getting employees with right skills and retaining them is still a tough job.
"As companies plan their growth strategies, hiring the right people, equipping them with the right skill sets and then retaining them still remains a challenge," Preeta Misra, Head, Financial Education Solutions, Dun & Bradstreet said.
 "Talent management is no longer restricted to managing the top guys, but include the other employees - the capable and steady members who make most of the workforce," Misra said.
Vikram Chhachhi, executive vice-president, DHR International said various measures can be taken by HR managers to tackle the burning issue of getting the right talent.
"In emerging economies like India the numbers are large but only a miniscule percentage is real talent that is employable. The knowledge workers are rare and scattered and the companies who can hire them will surely win in the longer run," Chhachhi added.
Quatrro BPO Solutions' executive vice president & chief human resource officer S Vardharajan said: "The HR should focus on moving from an administrative, operative role to a strategic, long term, proactive solution provider role."