Air India, which is providing concessional fares to people hit by the devastating floods in Uttarakhand, has so far carried over 300 passengers and is mounting additional flights between Dehradun and Delhi.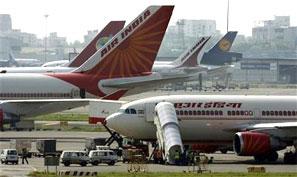 While Air India employees are contributing a day's salary to the Prime Minister's Relief Fund, its pilots have offered to forego their allowances to operate to Dehradun and even bear the entire fuel costs for these flights, airline CMD Rohit Nandan told PTI in New Delhi.
"After bringing the passengers from Dehradun to Delhi, we are connecting them through our pan-India network so that they can reach home safely. We are also expanding our capacity on this sector," he said. Air India operates its 70-seater Canadair Regional Jet-700 on the Delhi-Dehradun sector.
Over 300 passengers, including 200 from Tamil Nadu, have been flown so far.
All relief materials, sent by known NGOs and registered organisations, are being flown free of cost into Delhi. "All these organisations have been asked to coordinate with the Uttarakhand government for carrying these materials to the affected areas from here."
Besides, a team of 100 volunteers, all Air India staffers, are ready to go to the flood-hit areas to help the relief operations, Nandan said, adding that they are awaiting instructions from the state government on where to reach.
Coming to the aid of the stranded tourists and pilgrims, Air India is already providing 50 per cent concession on base fares for people travelling out of Dehradun to anywhere in the country.
"Even those going to Dehradun from Delhi are being offered this concession if they carried a certificate from the Resident Commissioner (of the state) that they or their families have been affected," he said.
Asked about passengers not having any money to pay for their tickets, the CMD said, "We are booking on a credit basis and the state governments are undertaking the costs...We are not making any money out of these operations. If we have to bear losses, we will bear them."
Commenting on the response of Air India staffers, Nandan said he was delighted to see the response. "The entire staff has risen to the occasion, to the national cause, just as they faced similar challenging tasks in the operations in Egypt, Kuwait, the Gulf War or the tsunami-hit Japan."