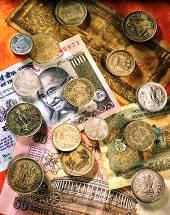 At a time when food inflation is on the upswing, an International Monetary Fund working paper suggests it may not be as worrisome a factor, at least in rural areas.

The paper says the rate of price rise in food items leads to lower income inequality in rural India.

The reason is pretty simple: rural areas comprise food producers as well.

Also, non-food inflation results in higher income inequality in rural India, says the paper, titled 'Inflation and Income Inequality: Is Food Inflation Different?', authored by James P Walsh and Jiangyan Yu.

IMF has clarified the paper does not necessarily represent its views and should be taken as the findings of the authors only.

In urban areas as well, higher non-food inflation leads to expansion of the Gini coefficient, which in simple terms means higher inequality.

However,
with food inflation, the impact on inequality in urban areas is ambiguous, say the authors.
If food inflation results in lower inequality in rural areas, since majority are food producers, it should be the converse for urban areas.
The Urban population does not comprise the food producers as such and the urban poor is the most hit by rising food inflation.
However, the result by the paper does not strongly show a positive correlation between food inflation and urban inequality.
In India, wholesale price food inflation has been on the rise, standing at double digits for a straight four months till June.
On the other hand, manufactured items inflation, has been on a decline more or less.
Looking at the broader headline inflation, IMF's paper says higher headline inflation does not have  much impact on rural inequality, while on the other hand in urban areas, higher headline inflation results in higher inequality.