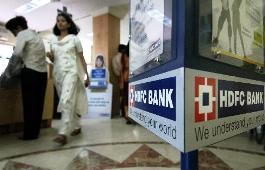 HDFC Bank has decided to cut its benchmark lending rates by 0.1 per cent with effect from March 30.

The base rate, or the minimum lending rate, of the country's second largest private sector bank will become 9.6 per cent from the existing 9.7 per cent, sources
said.
At the same time, the benchmark prime lending rate (BPLR) of the bank is expected to be slashed by similar margin to 18.10 per cent.
The new rates would be effective from March 30, sources added.
HDFC Bank has become the first bank to cut lending rate after the RBI cut the short-term lending rate by 0.25 per cent on March 19.