Seven states account for 80 per cent of the total hazardous waste in the country with Gujarat topping the list followed by Maharashtra and Andhra Pradesh.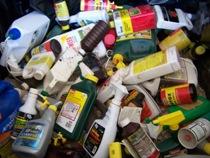 According to a recent government report, Gujarat accounts for 29 per cent of the 6.2 million tonnes of hazardous waste generated, Maharashtra 25 per cent and Andhra Pradesh 9 per cent. Chhattisgarh accounts for about 5 per cent and Rajasthan, West Bengal and Tamil Nadu about 4 per cent each, it said.
Overall there are about 36,000 industries in the country which generate hazardous waste to the tune of 6.2 million tonnes of which land fillable hazardous waste is 44 per cent at about 2.7 million tonnes. Incinerable hazardous waste is 0.4 million tonnes (7 per cent) and recyclable hazardous waste is about 3.1 million tonnes (49 per cent). However, currently, only 12 states have 25 operating common hazardous waste facilities.
In other states, 35 notified sites are at various stages of development. "The gap could be filled as a top priority activity. State governments should play a catalytic role for providing financial support matching the central subsidy," the report prepared by a panel comprised of environment ministry officials and NGOs says. Indiscriminate and unscientific disposal of wastes in the past has resulted in several sites in the country to become environmentally degraded, the report says.
There are 141 hazardous waste dump-sites that have been primarily identified in fourteen states and union territories out of which 88 critically polluted locations are currently identified. The Centre has recently ordered a moratorium on further industrial activity in these 88 identified polluted sites till August by when a policy will be evolved for improvement of environment quality.
As per National Inventory of Hazardous Waste Generating Industries, the total waste handling capacities of TSDFs is about 1.5 million tonnes per annum and there is a deficit of about 1.2 MTA for land fillable wastes and about 0.9 MTA for incinerable wastes, according to the report.
The panel members have stressed that remedial strategy needs to focus on the "polluter pays principle" with the polluter being asked to pay penalty as well as costs of cleaning up the pollution. "Industries causing pollution repeatedly should be blacklisted. Where polluters are not traceable, a dedicated fund needs to be created by State Pollution Control Boards for remediation," the report adds.