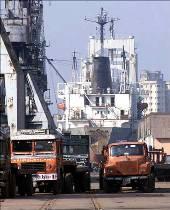 ABG Haldia Bulk Terminals has dared the port authorities here to enforce their threat to not allow the former to pull out from Haldia port.

As already reported, citing continued threats to law and order and the security of its staffers, HBT announced on Wednesday that it was no longer bound by its 2010 agreement with the Kolkata Port Trust to run cargo handling operations at Haldia till 2020.

Reacting to this, KPT said it would not allow HBT to remove any of its equipment at Haldia.

HBT had invested about Rs 150 crore (Rs 1.5 billion) at Haldia, including six cranes and 50 dumpers.

"These assets are owned by the company. Any attempt to prevent us from moving them will be illegal and tantamount to theft," said Gurpreet Malhi, chief executive officer of HBT, today.

Adding: "In our two years of operation, Kolkata Port has benefited, having earned more than Rs 150 crore. We have brought about a three-fold increase in productivity, which enhanced the image of Kolkata Port."

KPT's acting chairman, Manish Jain, had said they'd seek compensation from HBT, as the agreement was to run till 2020.

HBT
alleges it is making losses due to repeated defaults on their agreement by KPT.
It has an accumulated loss of Rs 60 crore (Rs 600 million) from Haldia operations since 2010.
It also denied allegations of defaulting on provident fund and Employees State Insurance deposits for employees.
Citing the recent abduction of three HBT officials and the family of one of them, Malhi added, "The safety and security of our employees is of paramount importance and above business interest.
"We cannot work in an environment where the authorities responsible for law and order and success of the project have openly renounced and abandoned their responsibilities." HBT says it had even paid Rs 17,45,730 for deployment of police.
Meanwhile, in court, the port counsel withdrew its prayer on October 26 to ask HBT to continue  cargo handling at Haldia.
The court agreed to the withdrawal.
However, later, KPT said it had never wanted to withdraw the petition and filed an application for recalling the order.
Later KoPT sources said senior lawyer Biswarup Gupta has been removed as the counsel of KoPT.