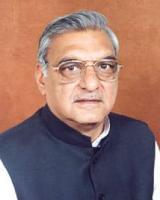 Gurgaon Metro, which will be linking the Metro Rail of Delhi with Gurgaon would become operational by June 2012, said on Tuesday.
Speaking at the foundation stone laying ceremony of Metro Rail Gurgaon Project in Gurgaon, Hooda said that the project would become operational in January next year, he said.
To facilitate the passengers, the frequency of Gurgaon Metro would be synchronised with Delhi-Gurgaon Metro to ensure minimum inconvenience to the passengers, he said.
The Gurgaon Metro would connect Delhi Metro at Sikanderpur station, enabling the passengers boarding Gurgaon Metro to reach the central business district of Delhi.
He said that the 6.1-km metro link would be a boon for the people of Gurgaon, especially for those staying in DLF Phase-2, DLF Phase-3 and Udyog Vihar.
"Over 100,000 employees of the Cyber city and Udyog Vihar would be benefited by the metro. Six stations would span the stretch to ensure that a station falls at minimum reachable distance both from residences and offices falling in the area," he said.
The CM said that starting from Sikanderpur; the metro train would run in loop covering DLF Phase-2, Belvedere Tower, Gateway Tower, Mall of India and DLF Phase-3. The train would run on standard gauge the internationally most acceptable system for operation of metro.
Hooda said that the government was committed to easing up traffic and make commuting smooth and had taken several measures to build the infrastructure not only in Gurgaon but in the entire state.
The chief minister thanked the Centre for extending Delhi Metro to Gurgaon and said that the Centre had been urged to extend metro rail project up to Kundli in Haryana and Najafgarh in outer Delhi.
Hooda also asked the Centre that states, where metro was reaching should be made stake holder and share holder in the project.
Speaking on the occasion, MP from Gurgaon, Rao Inderjit Singh said that mantra of public-private partnership had proved very beneficial and it was for the first time that the private companies had been given full responsibility for infrastructural development.
Secretary, ministry of urban development, central government, M Rama Chandaran, said that big towns of the state could now start metro services for traffic convenience as an Act had been passed in this regard.
In seven big cities, including Delhi, 500 km long metro rail line was being laid at a cost of about Rs 97,000 crore (Rs 970 billion), he said, adding  first phase of Delhi Metro had been completed and there was a plan to cover all the NCR area like Gurgaon.
Image: Haryana Chief Minister Bhupinder Singh Hooda