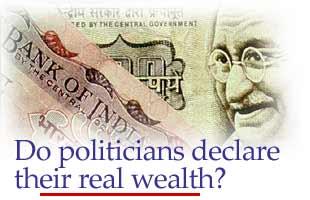 My admiration for the ebullient Ram Jethmalani has nothing to do with politics. It is that among election candidates he alone is honest enough and courageous enough not to hide his affluence under a bushel of poverty.
Jethmalani is a Sindhi refugee who crossed over with nothing in his pocket. He has earned every penny of the Rs 3.34 crore (Rs 33.4 million), including a Bombay flat worth Rs 1.25 crore (Rs 12.5 million) and £55,000, presumably in a London bank, to which he admits.
When a pretty young woman tried to floor him in my house by asking why he accepted briefs from smugglers and criminals, it was she who was floored by the candour of his riposte. How else would he earn enough, Jethmalani asked, to take up public interest cases without a fee?
Others are coy about success. This country lives on pretence and posturing. Just as the original illusion that people would vote for the good and the true was fanciful, so too is the fiction that candidates would declare their real wealth.
The returns remind me of the jingle, attributed to Ajoy Mukherjee during West Bengal's United Front regime, "Oporey bhara, nichey bhara; Modhikhaney Bastuhara. (Tenants above, tenants below, Homeless in between)." The verse mocked the deputy chief minister, Jyoti Basu, who had let out chunks of the paternal house.
Candidates pretend to be poor partly because the manner of wealth accumulation does not bear scrutiny and partly because we equate virtue with impecuniousness. India is not unlike the old Soviet Union which, as Margaret Thatcher said, was a country only for the rich.
Jawaharlal Nehru's claim of spending only fifty rupees a month ranks with J R D Tata's boast that the Taj hotel's Chinese steward earned more than he did. Such comments expose the carelessness of wealth, birth and privilege.
True, financial untruth is not the only instance of dishonesty. It may not even be the worst. The promise to throw open all "old religious places", the sudden raking up of the Bofors affair under the guise of investigative journalism (a phony ploy if ever there was one), or the distribution of goodies are all corrupt practices, whatever the law might say.
But to conceal riches and ostentatiously flaunt poverty are rooted deep in India's psyche.
The declarations prompt two recollections. I wangled an invitation once to the last Maharaja of Mysore's Dusserah durbar. Because I wore an ordinary lounge suit and not the court dress of white and gold turban, black sherwani and white and gold sash, I was shunted up to a screened gallery in Mysore's vast and ornate palace.
But even from there I could see his portly Highness ablaze with jewels as he bowed deeply to the golden guddee before mounting it. They must surely have been worth far more than the Rs 75,000 that his son and heir, Srikantadatta Narasimharaja Wodeyar, has declared.
Naveen Patnaik's modest Rs 2.67 million also reminds me of a time when I was considering settling down in Puri. I saw an abandoned half-built house near the waterfront that I might get cheap, I was told, from Biju Patnaik, the owner.
But in the capital's Utkal Bhavan, an old and ailing Patnaik, very different from the robust chief minister I had known years earlier, claimed to know nothing about the house.
"I am not property minded," he told me. I learnt later that the authorities had acquired the house in lieu of tax arrears by various Kalinga undertakings.
Chandrababu Naidu's return as, indeed, the entire information technology phenomenon, is also intriguing. I suspect sometimes that hi-tech whiz kid Naidu is hailed as a deliverer simply because of his laptop.
For me the computer is no more than another tool of efficient operations like typewriters or telephones in an earlier age.
The only test of a chief minister's achievement lies in higher literacy, improved healthcare and longevity, better crops, industrial productivity and a clean, caring and efficient administration.
Maybe, Andhra Pradesh does soar above the rest of the country in all these respects. But has the evidence been collected to prove this? Or is a computer regarded as an end in itself?
Nor can I understand how Naidu owes nearly Rs 3.2 million more than his total assets. If he has borrowed funds, what collateral does he offer? A second mystery concerns his wife's Rs 19.34 crore (Rs 193.4 million), so much more than the Rs 1.58 crore (Rs 15.8 million) to which he admits.
Did the late N T Rama Rao bequeath a fortune to each of his offspring? Or has the chief minister's wife earned her wealth through her own talents and efforts? Perish the thought that the money actually belongs to her husband, though held in her name.
Dissimulation insults the voter's intelligence. When Vasundhara Raje Scindia was canvassing the first time, she went around bedecked in jewellery, rightly arguing that people who came to see a princess should not be disappointed.
A Harijan voter in Bihar remarked in 1979 that Jagjivan Ram was not born to rule, whereas Indira Gandhi was. Poor voters do not lack honesty, understanding and ambition. It's only the rich who feel obliged to pretend to be poor.
Who remembers now that a younger and idealistic Atal Bihari Vajpayee, naturally in opposition then, lamented that Indian politicians start their legislative careers with a lie -- the false spending returns they submit?
This time round, the falsehood begins even before the election.
Powered by