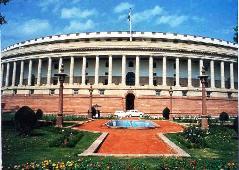 Faced with rising gap between revenue and expenditure, the government is likely to borrow an additional Rs 20,000 crore (Rs 200 billion) towards February-March to finance its fiscal deficit for 2012-13.

"Any additional borrowing will be done towards February-March," a senior Finance Ministry official told PTI.

The official further said that the government is currently borrowing Rs 20,000 crore (Rs 200 billion) every week from the markets.

"Additional borrowing of Rs 20,000 crore (Rs 200 billion) can any way be done in one week.

"So, the timing will be decided towards the end of the fiscal after assessing the exact requirement," the official added.

Budget 2012-13 pegged fiscal deficit at 5.1 per cent of gross domestic product.

However, in view of lower than expected revenue realistion and increased subsidy outgo, the Finance Ministry is expecting the fiscal deficit to go up to 5.3
per cent during the current fiscal.
The official further said that cut in expenditure was subsumed at the time of preparation of budget and hence an increase in fiscal deficit would necessitate further borrowing.
In order to finance the 5.1 per cent deficit, the government had planned to borrow Rs 5.7 lakh crore. A higher fiscal deficit of 5.3 per cent translates into market borrowing of over Rs 5.9 lakh crore (Rs 5.9 trillion).
In the first half (April-September) of 2012-13, the fiscal deficit rose to 3.37 lakh crore which was 65.6 per cent of the budget estimate.
Fiscal deficit scenario worsened for government on account of lower tax realisation and poor response to disinvestment programme.
With seven months of fiscal already over, the government is yet to launch stake sale in any PSU.
The finance ministry aims to raise Rs 30,000 crore (Rs 300 billion) by way of disinvestment in the current fiscal.