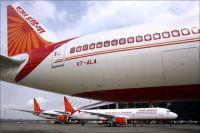 The government may be well within its legal rights to censure Air India's Austrian COO Gustav Balduf for breaking his confidentiality agreement and complaining of political interference to a national newspaper earlier this week.
But listening a little more closely to Balduf's message may do the airline a world of good, especially now that Air India's four independent directors are also questioning the management. It doesn't take a finance specialist to fathom that Air India is a failed enterprise that is being kept alive only by political will.
Anywhere else in the world, a commercial entity that has run up a debt of Rs. 40,000 crore (Rs. 400 billion) on a topline of Rs. 8,000 crore (Rs. 80 billion) would be closed forthwith because no buyer would touch it.
But with Air India, the more things change the more they remain the same. Consider the United Progressive Alliance's track record. Since it came to power in 2004, it has pumped in Rs. 2,000 crore (rs. 20 billion) of taxpayers' money into the airline.
Yet, the airline continued to bleed with accumulated losses at Rs. 15,000 crore (Rs. 150 billion). At a time when the aviation market was tanking, the then civil aviation minister Praful Patel decided to splurge Rs. 46,000 crore (Rs. 460 billion) to add 111 aircraft to its fleet and generously pave the way for private competition to soar.
On the politically prickly question of actually downsizing the airline's 29,000-strong staff – the single-biggest cause of the airline's problems – there was silence.
Bizarrely, more than half the airline's debt - Rs. 21,000 crore (Rs. 210 billion) - comprises working capital loans that the management has borrowed to pay its bloated, inefficient and intransigent staff.
The airline's 14 unions have struck work twice since 2004,
mainly on the issue of downsizing, demonstrating the same acute sense of irresponsibility that has brought the trade union movement into disrepute in India.
The new minister, Vayalar Ravi, has not displayed any striking originality of thought since he took charge.
He has suggested that the Indian taxpayer donate the ailing airline another Rs. 10,000 crore (Rs. 100 billion) to maintain it in its state of steady sickness.
This is actually an underestimation; Air India's management reckons it needs Rs. 17,500 crore (Rs. 175 billion).
Also, Ravi's trade union background has meant a warm welcome from the trade unions that have steadfastly declined salary cutbacks, let alone retrenchment.
They know he speaks the same language - which is perhaps why Air India's pilots have sent the airline yet another strike notice in the confidence that the former Kerala Students Union organiser will accede to their demands, no matter how unreasonable they are.
Mr Baldauf's complaint about political interference is odd, since he should have known when he took the job that such interference comes with the territory.
Air India has long ceased to be a commercial entity: it is of the government, exists for the government and is run by the government.
The service it renders as a "national carrier", flying uneconomic but important routes, can be performed by any airline if such routes are openly subsidised by the government.
The exchequer would save money if it were to subsidise specific routes rather than an entire airline. The time to privatise is here and now.