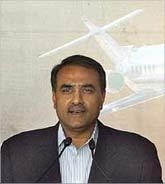 The Union Cabinet is likely to take up the airline industry's concerns over high taxes on jet fuel and airport charges at its next meeting and a Group of Ministers (GoM) may be set up to focus on ATF pricing.
After an hour-long meeting between Civil Aviation Minister Praful Patel and all major Indian carriers on Monday, informed sources said a detailed presentation on the problems being faced by the ailing aviation industry was likely to be made at the Cabinet meeting on Thursday by the Minister.
"We are satisfied with the Minister's assurance that he will take up our issues on an urgent basis. The ministry is sympathetic towards the problems of the industry and the minister said he would be as helpful as possible in taking up the issues with the government," Kingfisher Airlines CMD Vijay Mallya told reporters after the meeting.
Besides Mallya and Patel, the meeting was attended by Air India CMD Arvind Jadhav, Jet Airways Chairman Naresh Goyal, SpiceJet CEO Sanjay Agarwal, IndiGo Chairman Rahul Bhatia and President Aditya Ghosh, GoAir MD Jeh Wadia and Federation of Indian Airlines (FIA) Secretary General Anil Baijal. Civil Aviation Secretary M M Nambiar was also present.
The sources said the ministry is likely to suggest the setting up of a GoM to recommend measures to resolve the problems of the aviation industry, especially on account of high taxes on jet fuel.
The private airlines had recently abandoned a plan to ground flights on August 18 to protest the high tax on ATF imposed by the state governments and the high airport charges.
On the high ATF cost which accounts for almost 40 per cent of an airline's total operating cost, the sources said suggestions are likely to be made to ask the oil companies to reduce the base price at which jet fuel was sold the airlines.
As the taxation issues primarily concern the state governments which earn substantially from imposing sales tax on jet fuel, the Centre has maintained that nothing much could be done on this count as any step would lead to reducing the states' revenue earnings.
So far as high airport charges are concerned, the airlines were told at the meeting to approach the Airports Economic Regulatory Authority (AERA), set up recently to fix and regulate airport tariffs and settle disputes.
The airlines also wanted the government to take steps to reduce the impact of their foreign exchange outgo on account of purchasing aircraft spares, which is a major recurring expense, the sources said.
The meeting of the FIA delegation took place days after Patel met Prime Minister Manmohan Singh and briefed him on the issues plaguing the civil aviation sector. The prime minister lent a 'sympathetic' ear to the problems faced by the aviation industry.
Image: Civil Aviation Minister Praful Patel.
Photograph: Reuters