Among the various ways being considered by the central government to raise Rs 5,000 crore (Rs 50 billion) from tax-free bonds for shipping ports, one is to allow major ports to themselves issue these.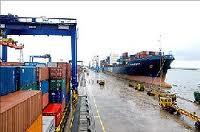 "We are yet to take a final decision. Major ports are one of the options for raising the money," said K Mohandas, secretary in the shipping ministry.

The ministry is to decide upon the body which can raise this money by the end of this month.

It is also considering allowing a government body such as IIFCL or REC to raise the money for the ports.

"They will need some agency to raise this money, like National Highways Authority of India (NHAI ) does. It doesn't seem very feasible for port authorities to raise the money," said Vishwas Udgirkar, senior director, Deloitte.

The ministry also plans a Maritime Finance Corporation (MFC) as a part of its Maritime Agenda 2020, which may be so entrusted.

"Setting up MFC will take some time, though it is best placed for this purpose. We will be holding a meeting soon to finalise the agency," said a senior official in the ministry.

The money raised will be used to finance the dredging operations and infrastructure requirements of various major ports.

Most maritime projects are specialised and require specialised scrutiny and appraisal for obtaining the finances for such projects. More, there are no specialised agencies to fund such projects.

According to the mid-term appraisal of the 11th Five-Year Plan (2007-12), the pace of expenditure in port development is well behind target.

Against an outlay of Rs 29,889 crore (Rs 298.89 billion), the likely expenditure in the first four years is Rs 5,026 crore (Rs 50.26 billion), or 16.8 per cent.

"Port authorities are not spending the money themselves. It's a viable sector and they take a share in the revenue. Also, established players like NHAI have not been able to utilise these funds completely because the market did not respond fully," Udgirkar added.

The step has been taken by the finance ministry to boost infrastructure development in ports.

Other government undertakings which have been allowed to issue tax-free bonds are Indian Railway Finance Corporation, Housing and Urban Development Corporation and NHAI.

The 2011-12 Budget has made provision for Rs 30,000-crore (Rs 300-billion) of tax-free bonds.

The government has planned to invest Rs 5 lakh crore into the maritime development programme up to 2020.

The shipping ministry is planning to increase the port capacity of the country to 3,000 million tonnes from the existing 617 million tonnes by 2020, along with various policy reforms in the shipping and ports sector.

Budget 2011-12 has also allocated Rs 97 crore (Rs 970 million) for a rail connectivity project of Cochin Port Trust and a combined loan of Rs 193 crore (Rs 1.93 billion) to those of Visakhapatnam and Mormugao.