Under pressure from his party, Oil Minister M Veerappa Moily said the government is considering increasing the quota of subsidised LPG cylinders to 12 per household even as hints were dropped of a one-time hike in diesel and LPG rates.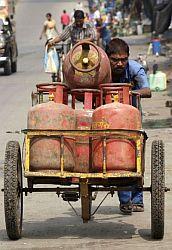 Moily, who last week said there was no proposal to increase the quota from 9 cylinders per household to 12, said the final decision on the issue will be taken by the Cabinet Committee on Political Affairs (CCPA).

"I have read in newspapers about (Congress Vice President) Rahul Gandhi taking up the issue of increasing the LPG cap with the Prime Minister. I am yet to get comments from the Congress Vice President or the Prime Minister," he told reporters.

Moily said 89.2 per cent of the 15 crore (150 million) LPG consumers use up to nine cylinders in a year and only 10 per cent have to buy the additional requirement at the market price.

If the quota is raised to 12, about 97 per cent of the LPG consumers would be covered by subsidised LPG, he said.

Increasing the limit to 12 would result in an additional fuel subsidy burden of Rs 3,300 crore-5,800 crore (Rs 33 billion - 58 billion) for the government.

"If that proposal (for raising LPG cap) comes, we need to examine pros and cons. Ultimately, the decision will be taken by CCEA or CCPA," he said. "We are going to take a considered view... We are considering the suggestions."

Oil Secretary Vivek Rae, talking to reporters with Moily on his side, said his ministry was moving Cabinet to ensure a minimum $65 per barrel is paid to oil and gas producers like ONGC from current $40-45
so that difficult oil could be explored and produced.
Raising the price for producers means the subsidy the government bears on fuel supplies would rise.
"The question is who will bear the (increased) burden. The gap will have to be borne by consumers. Options are being discussed," Rae said.
Asked if it would mean a one-time hike of Rs 2-3 on diesel, over and above the current 50 paisa per month, and some increase in LPG rates, he said: "We have to see that. I can't today what the government will decide."
Diesel, LPG and kerosene rates at present are capped way below cost of production and the gap is made good by the government by way of cash subsidy and dole from oil producers like ONGC.
After the dole, producers are left with just $40-45 per barrel which is not enough to produce oil from difficult fields.
"At USD 65 per barrel, ONGC can produce 70 million tons of additional oil over a period of time," he said.
With a view to cutting its subsidy bill, the government had initially capped the supply of subsidised domestic LPG cylinders to six per household in a year in September 2012. The annual quota was raised to nine in January 2013.
Consumers who have exhausted their quota have to buy LPG at the market price of Rs 1,258 per cylinder.
Officials said state-owned oil firms lose Rs 762.70 per cylinder on the sale of subsidised LPG and the government will have to pay higher subsidy if the quota is raised.