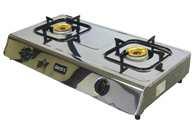 The government may give poor people LPG stoves free of cost as part of its blueprint to expand domestic cooking gas coverage to at least three-fourth of the population.
The Petroleum Ministry is considering a proposal to use the funds state-run oil firms set aside for CSR activities, an official source said.
"Public sector oil companies have been asked to spend at least two per cent of their net profit each year on corporate social responsibility (CSR) initiatives. A part of these funds is proposed to be use to give free LPG stoves to poor people," he said.
The scheme, he said, is part of Petroleum Minister Murli Deora's blueprint to release 5.5 crore new LPG connections by 2015, taking the total number of LPG connections from present 11.5 crore (115 million) to 16 crore (160 million).
This would increase coverage from 50 per cent of population at present to 75 per cent. "People living below poverty line (BPL) will be given free stoves and subsidised LPG," he said.
As part of the agenda for the first 100 days of the UPA government's second innings, Deora has already rolled out mobile phone text or SMS booking for LPG refills and toll-free number to make complaints.
Deora's ministry has surpassed the targets set for first 100 days by rolling out a path-breaking Gramin LPG Vitarak Yojana, raising oil and gas output and laying of roadmap for expanding city gas services.
Beginning of oil production from the Mangala oil field in the Thar dessert of Rajasthan and ramping up of output from the Krishna Godavari basin KG-D6 gas field have been the hallmark of the 100 days, an official statement issued said.
Peak output of 8.75 million tonnes from the Mangala field will reduce the nation's oil import bill by about 8 per cent while gas from the KG-D6 will cut fertiliser subsidy and boost power generation.
Eighth bid round of the New Exploration Licensing Policy (NELP-VIII) offering 70 blocks covering an area of about 1.64 lakh sq km and the fourth bid round of Coal-Bed Methane (CBM-IV) offering 10 blocks covering an area of about 5,000 sq km were launched with a view to intensify exploration, it said. The bids will close on October 12.