The government is likely to get over Rs 23,000 crore (Rs 230 billion) through one-time spectrum fee that has been levied on mobile operators for holding spectrum beyond a prescribed limit, Parliament was informed on Wednesday.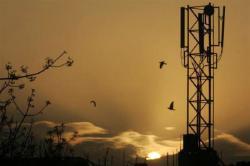 "The demand on account of one-time spectrum charges has been raised against the licensees in respect of GSM spectrum. The government is likely to recover Rs 23,177.66 crore (Rs 231.77 billion) from the companies holding excess spectrum," Minister of State for Communications and IT Milind Deora said in a written reply to the Lok Sabha.

The government has issued the necessary order on December 28, 2012, Deora added.

To a query on the steps taken by the government to recover the charges, Deora said the matter is sub-judice.

The government is likely to get Rs 6,911.86 crore (Rs 69.11 billion) from BSNL, Rs 5,201.24 crore (Rs 52 billion) from Bharti Airtel, Rs 3,599.40 crore (Rs 35.99 billion) from Vodafone, Rs 3,205.71 crore (Rs 32 billion) from MTNL and Rs 1,882 crore (Rs 18.82 billion)
from Idea Cellular.
Earlier, telecom operators were given 4.4 MHz of spectrum with licence at price of Rs 1,658 crore (Rs 16.58 billlion) for pan-India operations and later they were entitled to get 1.8 MHz spectrum on fulfilment of certain subscriber base criteria.
The government has decided that existing operators should pay for holding spectrum above 6.2 MHz retrospectively, from July 2008 to December 31, 2012. For spectrum above 4.4MHz, they would have to pay for the remaining period of their licences starting January 1, 2013.
The operators were given the option to surrender spectrum beyond 4.4 MHz if they did not wish to pay the charges.
The price of the spectrum was determined on the basis of the price discovered in the 1,800 MHz spectrum auction last year.
The operators are permitted to pay in equal annual instalments for the balance number of years of licence in a manner that the last instalment is paid a year before the expiry of company's licence.