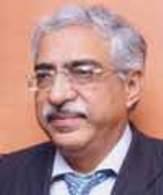 The government is finalising appointment of at least nine public sector bank chiefs and a dozen executive directors who would replace them or fill existing vacancies.
RM Malla is set to move as IDBI Bank chairman and managing director (CMD) from Small Industries Development Bank of India. Malla will replace Yogesh Agarwal, who is expected to take over as the head of the pension regulatory agency.
Sources said Syndicate Bank CMD Basant Seth and Union Bank of India Executive Director S Raman were in the fray to replace AC Mahajan at Canara Bank.
In case Seth moves to Canara Bank, Raman will replace him at Syndicate Bank.
R Ramachandran, who is executive director at Syndicate Bank, is expected to move to Andhra Bank as CMD.
Central Bank of India Executive Director Arun Kaul is set to take over as UCO Bank CMD, once the post falls vacant in June.
Kaul's colleague at Central Bank Ramnath Pradeep is tipped to take over as Corporation Bank chief.
Anup Sankar Bhattacharya may take over as the new Bank of Maharashtra CMD. He is at present executive director at Chennai-headquartered Indian Bank.
Further, Nagesh Pydah, Punjab National Bank's executive director, is likely to be appointed as CMD of Oriental Bank of Commerce when the vacancy arises at the year-end.
In addition, HSU Kamath is expected to move from Canara Bank to Vijaya Bank.
Sources said the government was in the process of finalising candidates for Indian Overseas Bank, but a replacement for GS Vedi, who retires as CMD of Punjab & Sind Bank later this year, has not been finalised yet.
In addition, they said, a list of at least a dozen executive directors had also been finalised. Apart from Seth and Malla, who are already chairmen, other bank chiefs were appointed after a round of interviews conducted last week. Sources close to the appointment process said shortlisted candidates would be given the option soon.

Image: RM Malla, IDBI Bank chairman