The government has cancelled the permission to the Adani Group's 1,840 hectares special economic zone (SEZ) in Mundra (Gujarat) for alleged violation of three SEZ rules.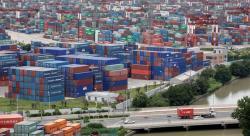 Sources in the Ministry of Commerce & Industry informed Adani Ports and Special Economic Zone's project did not conform to contiguity norms and violated a rule, which requires the SEZ site to be vacant before approval is sought for the tax free zone. Besides, the site was land-locked.
An official said, "They had violated these three norms. Because of this, we have denotified their SEZ," said an official said. Adani Group can. However, approach the Board of Approval once the anomalies are addressed and seek fresh permission for commencing work on the project.
A spokesperson at Adani said, "The company has over 6,473 hectares land notified multi product Special Economic Zone which has no relation with the aforesaid 1,840 hectares multi product SEZ. We had sought clearance for this additional land measuring 1,840 ha for expansion in future. The clearance was turned down as the authorities felt that the proposed area lacked contiguity. We will seek clearance for this additional 1,840 ha in due course."
"The development and operations of the Port and related infrastructure and the existing 6,473 ha SEZ at Mundra are normal and not impacted by this", he added.
The Adani Group plans to set up the country's largest SEZ spread over nearly 6,500 hectare. An empowered group of ministers had permitted the merger of "contiguous zones" in 2009. The promoters had wanted to merge three land tracts into the notified zone on the grounds that these were also "contiguous."
However, ministry sources informed that the government would not allow indefinite merger of zones as the EGoM had originally capped the maximum area at 5,000 hectares.