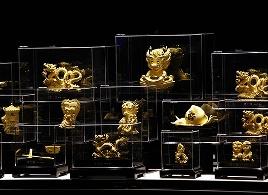 Seeking to check misuse of tax benefits by the Special Economic Zones, the government has banned trading of gold by units in the SEZs.
SEZs are allowed duty-free imports as opposed to a maximum of 6 per cent charged on imports by other entities.
"The Commerce Ministry has received lot of complaints about diversion of gold from few zones to the domestic markets. The decision is aimed at checking misuse" an official said.
According to a notice, "no trading activities in gold will be allowed (in SEZs)". Besides, the ministry has also banned DTA (domestic tariff area) transactions in gold by the tax free enclaves.
The official further said that "manufacturing of gold medallion will also not be allowed" and the existing letter of approval for trading activities in gold and manufacturing of gold medallion has been cancelled.
It has also clarified that no fresh letter of approvals will be issued for such activities.
The official said a number of SEZ units were found to be indulging in trading gold instead of manufacturing, taking the advantage of the zero duty in the tax-free zones.
SEZ units, sources said, were earning arbitrage profits as high as 7.5 per cent by diverting imported gold to the domestic market.
This was a very profitable venture for SEZ units as it did not involve much capital, infrastructure or labour, they added.
"We want to clean the SEZs. They are meant to boost manufacturing activities and not trading," the official said adding the practice was found rampant in SEZs in Kandla and SEEPZ in Mumbai and Cochin.
India, the largest consumer of gold, imported $38 billion worth of the metal that contributed substantially in its record high current account deficit (CAD). CAD stood at 6.7 per cent in the third quarter of 2012-13.
"The country is struggling to control CAD. Gold imports are the major contributor in widening the CAD," he said.