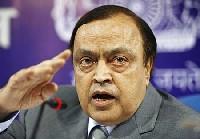 Corporate affairs minister Murli Deora has supported the recommendations of the Parliamentary standing committee to make spending under corporate social responsibility (CSR) mandatory under the proposed Companies Bill. Pending the Bill, the minister also announced a slew of measures to simplify procedures akin to the licence raj.

Addressing his first press conference in Delhi, since he took charge of the ministry recently, Deora, as an interim measure, also announced a series of changes meant to ease the procedural difficulties being faced by companies under the existing statutory framework.

The mandatory requirement of the holding company to submit the accounts of all subsidiaries, along with their annual reports, has thus been done away with.

Similarly, unlisted companies will not have to seek ministry approval for payment of managerial remuneration even if they make losses or inadequate profits from Tuesday.

Both exemptions are subject to certain conditions prescribed under the Companies Act of 1956. The ministry has also done away with some of the mandatory disclosure requirements.

Thus, companies engaged in manufacture, trading or export activities and firms that are into shipping, airline, hotel businesses, or defence equipment production will no longer have to disclose quantitative details such of raw materials, item-wise production, etc, in their reports to the ministry.