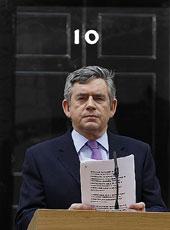 Former British Prime Minister Gordon Brown may have left Britain broke, but he is laughing all the way to the bank amid reports that he has been offered 70,000 pounds a night to tell Americans how to end the recession.
Though no where near the amount commanded by Tony Blair (about 400,000 pounds per a speech), Brown has been approached to join the US lecture tour circuit to deliver speeches on the world economy to top businessmen and bankers.
Even as Brown is regarded as a poor orator, celebrity agent Robert Walker -- whose clients include former Soviet president Mikhail Gorbachev, human rights activist Bishop Desmond Tutu and actors Michael Douglas and Goldie Hawn -- insists the defeated Labour leader could earn big sums.
"To be very frank with you, it doesn't matter to me whether Brown is thought of as a good speaker. I look for clients who have content and I work with them to develop it. They bring the steak to the meal. I throw on the sizzle," he was quoted as saying by the Mail online.
Walker, whose firm is called the American Programme Bureau, is understood to have advised Brown that he can earn as much as 70,000 pounds for a single after-dinner homily on bank bailouts and other economic measures, the report said.
New York's Harry Walker Agency -- run by Don Walker, who is a cousin of Walker's -- is believed to also have made an approach to Brown, it said.
It's most famous clients are Bill Clinton, who commands about 100,000 pounds a speech. Another of the agency's client, Cherie Blair, who was paid as much as 30,000 pounds an appearance was advertised as 'Britain's First Lady'.
However, the problem is that Brown, known for his parsimonious lifestyle, has said he does not want to emulate the commercial success enjoyed by his predecessor Blair.
"I don't want to do business or anything else. Sarah and I may go off and do charity work," he said as he left 10 Downing earlier this month.